Tomorrow is grown
from your action today
The loss of nature in Britain is visible and worrying. In our lifetimes, almost half our farmland birds, mammals, amphibians, insects and invertebrates have disappeared, along with 97% of our wildflower meadows. The consequences however, of this wildlife decline go beyond simply the loss of nature; the destruction of these critical ecosystems, which are essential to farming, will have a negative and long-term impact on food production.
By purchasing products certified by the RSPB's Fair to Nature scheme, you can make a genuine difference to this crisis today and help protect our world for future generations.
Our scientifically proven approach is not only fair to nature, it is critical for us all. Our food system relies on nature, on soil fertility, earthworms, clean water, pollinators and natural pest control, with thriving biodiversity and ecosystems intrinsic to a functioning food supply.
Fair to Nature is the only UK certification scheme to focus on biodiversity and the only one to promote and support the scale of land management needed for UK wildlife to thrive. By asking farmers to ensure 10% of their farmed land is managed for nature, we're enabling the re-emergence of richer, more diverse habitats – fuelling not only a return to the balance of nature, but to lasting sustainability, economic stability and long-term business resilience.
When you buy a Fair to Nature certified product you can be confident that you're supporting farms and businesses that meet the highest sustainability standards and are committed to protecting and restoring nature for a better tomorrow.
With incredible results, our own Fair to Nature farm has seen a 226% increase in breeding birds, a 213% increase in farmland butterflies, almost double the floral diversity and up to 19 times more bees than typical farms.
We're working with committed farmers and retailers to ensure you can buy food that comes with benefits for nature and our planet: guaranteed by science and certified by the RSPB.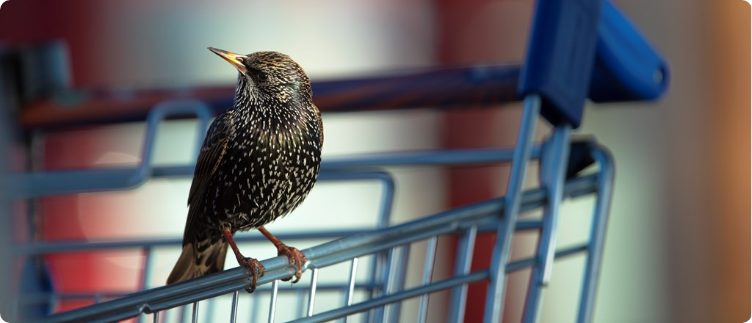 WAYS YOU CAN HELP
SPREAD THE WORD
Do you visit a restaurant or shop which sources local produce? Why not check if it comes from a Fair to Nature supplier? Or if you have a favourite food brand, why not ask them if they source Fair to Nature ingredients?
CREATE A NATURE FRIENDLY GARDEN
While our farmers are working hard for wildlife, you can do the same at home in your own patch. Why not devote at least 10% of your garden to wildflowers and other beneficial features such as a pond, log piles or a hedgerow with native plants such as hawthorn, blackthorn, holly and spindle? There is some great advice on the RSPB website, and we would love to see photos of your nature friendly gardens and the wildlife that lives in them on our Facebook page.
This blog from the RSPB's Rich Morris has so good tips on embracing nature in your garden – Leaving harmful chemicals on the shelf – create a wildlife-friendly outdoor space.
SUPPORT THE NATURE FRIENDLY FARMING NETWORK
Fair to Nature works closely with the Nature Friendly Farming Network (NFFN), which has been set up by farmers to help support the growth of nature friendly practices. You can sign up as a public member free of charge via their website.